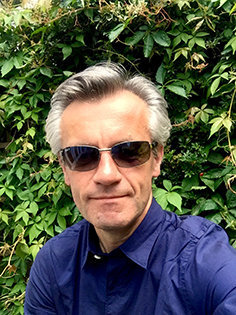 David O'Flynn
Dublin, Ireland
Contact
e-mail:
david@clix.ie
ph: +353-87-2861227
Biography
He is a relative latecomer to photography, initially the camera was a way of capturing family moments but gradually it developed into an ability to capture a wider and deeper range of images. A pivotal point for him was winning the 2005
RTE
Winter Weather Competition because, for the first time, he realised that there may be a wider interest in his photography. Since 2005 he has had a number of solo exhibitions, undertaken commissions (both for display and for publication) and published two books.
Over time his style has evolved and he has refined the type of subject matter he addresses. He tends to look for "hooks" to hang his personal photographic projects on. Ideas where he can examine a cross-section of society; or ideas where there is some kind of historical link – this can be an anniversary, or another point of interest. Above all, He is fascinated by the minutiae and ordinary things in life. The composition of each photograph is very important to him and each collection captures the colour and a flavour of the gentle eccentricity that pervades every day life.
He shoots exclusively in digital and travels light when working, usually only taking a camera, a couple of lens and plenty of batteries and memory cards.
Books
2011 – "Horse – The Horse and Irish Society" (The History Press)
2007 – "Images of Fingal –Coast and Castles" (Nonsuch Publishing)
Exhibitions
2008 – "Images of Fingal" – Skerries Mills
2008 – "Images of Fingal" – Baldoyle
2008 – "Images of Fingal" – Malahide
2006 – "Early works" – Malahide (charity exhibition and sale)
Lectures
2013 – "In Remembrance" Skerries Historical Society
ReviewsImages of Fingal – Coast and Castles
Books Ireland (Feb 2008)
"…the consistently brilliant quality of the pictures lifts it streets beyond the norm. The author expresses a nice sense of humour and has the trick of pressing the button at exactly the right moment, but above all he uses form and light and shadow – chiaroscuro – in a way most colour photographers have forgotten or never known"
In Remembrance
History Ireland (Nov/Dec 2012 edition)
"an elegant and facinating portfolio of images that addresses the commoration of the Great War in Ireland in the first decade of the 21st Century"
Brian Maguire, Area Manager for Ireland, British Legion
"I thought that it was an interesting perspective on the issue of Remembrance in the island of Ireland. I was very pleased to be able to include it in the 2012 "Festival of Remembrance" programme"